Biorevitalization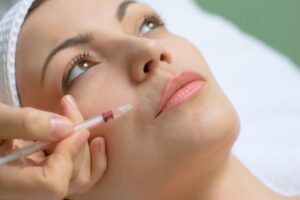 Biorevitalization is the revitalization of skin in a biological way by returning the life to skin. This is a non-surgical and widely applied way to fight skin ageing and various skin problems in aesthetic medicine.
This technique was discovered by Italian scientists. During the procedure, the skin is injected with small doses of pure hyaluronic acid of non-animal origin. Hyaluronic acid is the main structural element of connective tissue. It stimulates many important processes in human organism.
Bio-revitalization is a treatment that restores elasticity and tone to skin tissues, consists of the injection of a series of bio-stimulant drugs (such as pure hyaluronic acid), mineral salts and vitamins (A, B3, B5 B6, B12, C, IS).
The purpose is to promote collagen synthesis and to deeply moisturize the skin, restoring its natural balance and guaranteeing a fresh and smooth appearance to the face.
Bio-revitalization is one of the most popular aesthetic treatments as it does not present any type of contraindication or side effect.
This is the infiltration of deep active ingredients, generally with a synergistic action. The general rules of asepsis are respected and sterile and disposable material is used. Some of the principles used are often combined with a local anesthetic to improve the tolerability of the procedure. The doctor inserts a fine needle in key points by injecting some ml of product.
Hyaluronic acid (not cross-linked): stimulates the fibroblasts to produce new collagen and elastin that constitute the scaffolding of the skin; given its viscosity, it also has a hygroscopic effect, ie it retains water and allows better tissue hydration; it also has an antioxidant and protective effect on the action of important free radicals responsible for skin aging.
If you want to learn more about treatments with Bio-revitalization, come to visit us at the Estemed Clinic of Dr. Paola Rosalba Russo in Str. Saliceto Panaro, 123, 41122 Modena, or request an appointment.